You are fascinated by Berlin and interested in home exchange, swopping your flat or looking for attractive accommodation in this dynamic city? Then you are right on target at our website www.homeswopping.berlin. Get inspired by the German capital (Berlin) and dwell on some most interesting ideas on short- and long-term stays (accommodation). Whatever makes you come to Berlin – be it your vacation, your studies or any other reason – we do have assembled some most valuable and helpful information for you.
Advertisement
Brief profile of Berlin:
You will find some concise facts and pieces of information worth knowing at this brief profile of Berlin. The information from this website is most certainly of interest to all tourists and newcomers to Berlin but experienced travellers to Germany´s impressive capital may also find some interesting news and inspiration » more
Vacation home swopping:
To swop one´s house or flat and spend the own vacation at some other private place is a concept, which is attracting ever more followers all over the world. Sharing or exchanging cars, tools or even one´s home for a limited period of time is an expression of the open-minded, caring and responsible attitude of the supporters of this sustainable idea. And on top of it: By swopping your house or flat you do not only find fascinating accommodation all over the world. You will also find like-minded people, who take care of your own place at vacation time so that you can rest assured while being away. Just let the idea of swapping your home get into your mind and maybe you become a home swopper yourself at your next vacation. Why not look for a suitable place in Berlin right now ? » more
If you still prefer to stay at a hotel at this stage:
If you are not (yet) ready for the idea of this alternative accommodation and rather look for a more traditional way of spending some time in Berlin like a hotel, B&B, hostel or holiday flat, you will find valuable information on attractive accommodation in Berlin » here.
Permanent home exchange:
Although the swopping of flats for good is not the major focus of this website, our editorial team has also assembled some interesting information on this topic » more
Touristic highlights:
Numerous top-notch points of interest make Berlin to one of the most fascinating places to visit.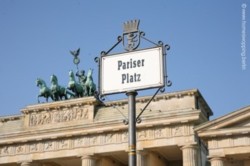 Berlin is definitely worth a visit at any time of the year. There is so much to see – you will find a selection of the most outstanding places » here




Cultural metropolis:
You will encouter places of cultural interest just anywhere in Berlin. The range of cultural highlights is overwhelming. Get inspired by our selection and also have a look at our list of recommended reading » here
Hot spot Berlin:
Berlin is hip, creative and on everyone´s lips. Berlin is trendy, freaky, creative but at the same time fashionable, classy and chic – and très chic is our up-to-date information for you » more
Education in Berlin:
Numerous universities and colleges are welcoming foreign students. Eager students / applicants from all over the world will not only appreciate and love the high standard (quality) of the various faculties but also the unique city of Berlin. And perhaps swopping flats is a fine alternative to a residential / living community. Our editorial team will be happy to assist you and ease your way of finding a suitable place » more
Arriving at the airport by plane:
Most international guests and visitors will certainly arrive by plane. If you need additional information and practical advise concerning your arrival and the way to the city please click » here
Public transport for tourists:
If you want to make the most of your stay in Berlin you should ensure your highest mobility. Berlin´s public transport offers a wide variety of possibilities. And of course a sightseeing-tour is always a worthwhile experience » more