Learn more about how best to do sightseeing in Berlin. Furthermore, find some great ideas about touristic highlights in Berlin.
Advertisement
Sightseeing:
There is a great variety of sightseeing tours in Berlin with many different starting points. There are short, extensive and thematic tours, tours by bicycle, by ricksha or by Segways, boat tours on the Spree and the Havel or tours with hop-on hop-off busses. It is definitely worthwhile making one or several organized tours during your stay in the German capital. Berlin is huge and so are the distances. Even by public transport it takes a lot of time to move from sight to sight. A sightseeing tour on food is not really a good idea, but we do have a suggestion for a short tour, which already offers quite a lot.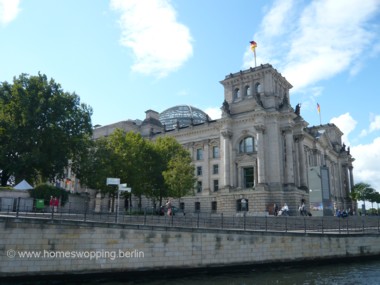 Starting point is Brandenburger Tor with the Quadriga. In one direction, if you look through the Tiergarten and the Strasse des 17. Juni, you will see the Siegessaeule with the golden statue of Victoria, the goddess of Victory. The Berliner, always good for cheeky remarks, call this statue "Goldelse".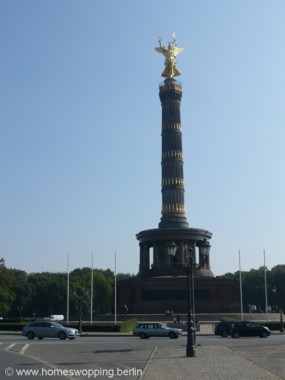 Looking in the other direction, the famous boulevard "Unter den Linden" lies ahead. Before you start your tour, it takes only some steps to the right to get to most impressive Stelenfeld, the Memorial to the Murdered Jews of Europe. Back at the Pariser Platz, you will see the American and the French embassy. A few steps further, just behind the most famous Hotel Adlon, there is the Russian embassy. The fourth embassy of the victorious powers, the British one, lies to the right in the Wilhelmstrasse. The boulevard crosses the Friedrichstrasse with its well known metro station on the left. On the right you can almost get a glimpse of the world famous Checkpoint Charlie. Further to the left the main building of Humboldt University is located. Opposite of it you will see the state opera Unter den Linden. If you want to make a tiny detour, you can visit the Gendarmenmarkt with the German and the French Dome just behind. Worth a visit is also the Neue Wache with Kaethe Kollwitz´ moving sculpture. The same holds for the architecture of the Deutsche Historische Museum.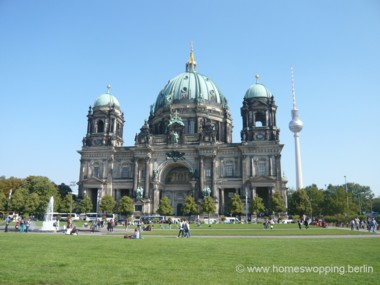 You can now carry on and get to the Lustgarten, a small green being framed by the Alte Museum and the Berliner Dom. Opposite of the Lustgarten there is the huge building site of the Berliner Stadtschloss, which after its scheduled completion in 2019 will host the Humboldtforum. It will not take long until you reach Alexanderplatz. You just have to cross the Spree with the docks for the boat excursions and pass the Rote Rathaus before you find yourself right under the Fernsehturm.